Home
Welcome to Battling Brook Primary School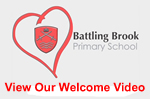 At Battling Brook, we aim to provide a positive and challenging environment for our whole school community.
Our philosophy is summed up in our school aims:
We are all of equal worth.
I will do my best and do my best for you.
If you need me, I will be there for you.
We take pride in each others achievements,
because we live, learn and succeed as one body.
To learn more out our school aims, please click here