Our Curriculum
Our B.B.C.
(Battling Brook Curriculum)
At Battling Brook we believe all children have a right to a broad, balanced and relevant education which provides continuity and progression and takes individual differences into account. Work in school should be designed to deliver the requirements of the National Curriculum whilst meeting the needs of our specific pupils.
To this end, we use the Cornerstones Curriculum, a nationally recognised approach for delivering outstanding learning opportunities for children, as a basis for our curriculum topics. Cornerstones uses a creative, thematic approach to the teaching and learning of the 2014 National Curriculum, which provides our staff with an excellent foundation when planning, using their Imaginative Learning Projects (ILPs). Staff adapt these ILPs each year, taking into account their specific cohort of children to ensure that the skills and knowledge taught within each ILP match the particular needs of that group of children.
Where natural links between subjects occur, lessons are taught with the specific topic or theme as a stimulus, however, some skills need to be taught in isolation.
Please find below the long term plans for each year groups BBC topics throughout the year.
Mathematics:
As a school we follow the White Rose Objectives for our maths planning. These objectives give guidance to ensure coverage of all key areas of the 2014 National Curriculum; however, like with any published guidance staff make adaptations where necessary for their individual classes to ensure accurate acquisition of skills and knowledge. The links below provide the information relating to specific year groups and demonstrate subject progression across school years.
Religious Education:
Where Religious Education doesn't naturally fit within the BBC themes, staff follow the agreed Leicestershire Syllabus as detailed in the table below: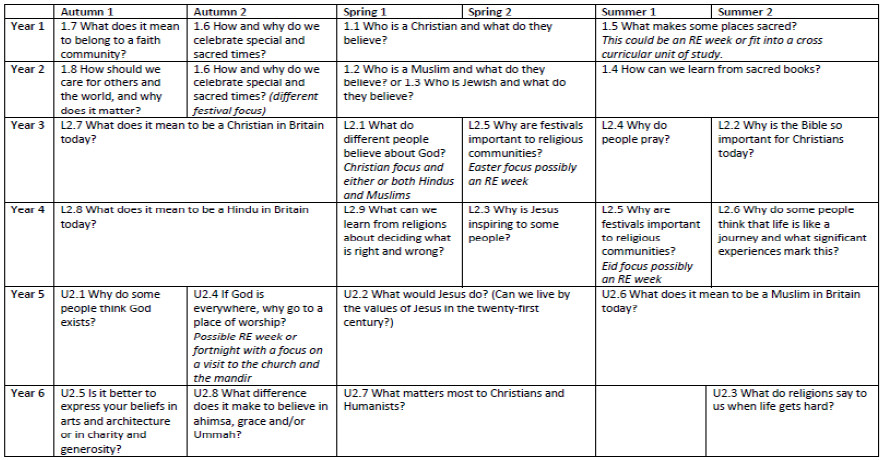 Should you require any additional information regarding our school curriculum, please speak to your child's class teacher in the first instance.